Trickster
6 X 60 Scripted Series
2021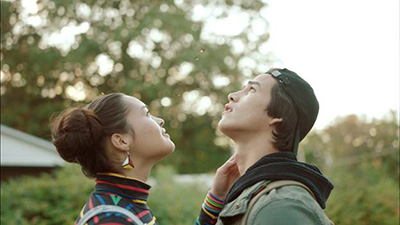 SYNOPSIS
Trickster, adapted from the Son of a Trickster trilogy of books by award-winning author Eden Robinson (pictured left) and co-created by Michelle Latimer and Tony Elliott, is a darkly humorous coming-of-age story, a mash-up of dysfunctional family drama and supernatural thriller.
It marks the first time CBC has developed a TV show based on books by an Indigenous author.
The series follows Jared, an Indigenous teen struggling to keep his family above water when a mysterious stranger, Wade, blows into town and turns his already chaotic life inside out. And when weird things start happening, it becomes clear he's also the mythic magical being the Trickster. What begins as an unnerving slow burn of strange events in Jared's already-messy life crescendos to an epic clash of magic, monsters and mayhem.
CREDITS
Director & Showrunner: Michelle Latimer
Co-created by: Michelle Latimer & Tony Elliott
Executive Producers: Jennifer Kawaja & Julia Sereny
Produced by: Sienna Films and Streel Films for CBC
SELECTED FESTIVALS
Toronto International Film Festival – Television Episodic Program
TRAILER
Trickster Trailer